Vanessa Te Kāhurangi Kipa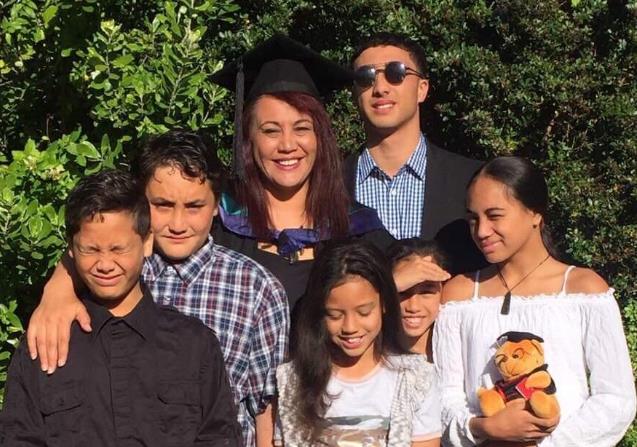 Tōku Pepeha
Ko ōku pai maunga: ko Tararua, Taupiri, Pukeatua, Akatarere me Motatau
Ko ōku iwi: Ngāti Raukawa, Ngāti Māhanga, Ngati Mahuta, Ngāti Koroki, me Ngā Puhi
Ko ōku hapu: Ngāti Wehiwehi, Ngati Haua, Ngati Maniapoto, me Ngāti Hine
Ko ōku marae: Raukawa, Wehiwehi, Rukumoana, Tauwhare, Turangawaewae, Maungatautari, Pōhara, me Motatau
Ko ōku awa: Karapiro, Waikato, Manawatu, Waipawa, Takirau, me Waitangi
Ko ōku waka: Tainui me Mataatua Ko Joanne Wilcox rāua ko Thomas Selwyn Tengore Kipa ōku mātua.
Ko Vanessa Te Kāhurangi Kipa ahau
Vanessa was born and raised in Porirua, she attended local schools in the area along with her tuakana (eldest) and teina (younger) siblings. She was raised by her mother Joanne and father Thomas, along with her 6 siblings. As a young adult, she became a parent. Following the separation from the father of her tamariki (children) 8 years earlier, she became a solo parent raising 6 tamariki, 5 of her own and her Whāngai (adopted) whom is her niece (Te Raukura). Vanessa's eldest son Kavana (20years) is a second-year student at Victoria University, Wellington; Vallon (13years) attends college; Te Raukura (12years), Aavron (11years) and Ahla and Mila (9years) attend primary school. Her tamariki are the driving force behind Vanessa's will and determination.
The nursing journey began for Vanessa, when her twin girls (Ahla and Mila) had turned 5 years old. Vanessa decided that she needed to provide financial stability, she needed to pursue a career to support her whānau. She had trained as an administrator, involved in office administration work most of her adult life. Vanessa wasn't particularly keen to continue down the admin pathway and said to herself, "there must be more to work that is meaningful and helpful to people".
She saw an advertisement for a mental health support worker. She had no experience in health, but curiosity got the best of her and she applied. She worked for 5 years as a mental health support worker, gaining experience and skills. After a year and a half working in her mental health support role, she started her nursing degree with Whitireia. She was encouraged by her service manager and mental health nurse (Bonita Ralfe) to go and train to become a Nurse. The journey was hard and consisted of study, work and raising her tamariki on a strict budget.
Her mum (Joanne) was her biggest support, financially and emotionally. She would often help to take care of Vanessa and her tamariki. Joanne was a strong Māori wahine (woman) and a role model for Vanessa, she was her rock, in her life and throughout her training. Vanessa lost her mum 6 months into her final year of her nursing degree, to Endometrial Cancer. She shared how she experienced grief, and how she had become depressed from the loss of her mum. She felt she didn't have the strength to continue and wanted to drop out. However, she had promised her mother she would finish the journey. With the support and encouragement of her tuakana, tamariki, whānau, her nursing peers and tutors of the BN Māori programme, she completed her studies successfully and is especially grateful, to those that supported her through that sad time in her life.
During her preparation for the nursing State Exams, she also thought about future employment as a Mental Health Nurse, this compelled her to apply through the ACE programme to complete Post-graduate studies. She is a new graduate nurse on the NESP programme with Capital and Coast DHB. She is on her first rotation working with Te Whare o Matairangi, an Acute Adult Mental Health Unit at Wellington Hospital, and she loves it. Vanessa is enjoying the learning.
The NESP programme is helping her to develop her nursing skills, her pharmacology knowledge and strengthening her interpersonal relationships with tangata whaiora. She views her role as culturally important and is sensitive to the needs of tangata whaiora. She continues to treat them with dignity, respect, and as whānau. Vanessa also believes that she makes a difference for Māori tangata whaiora as she understands Māori culture, enabling her to meet their cultural needs and knows the importance of kaumātua assistance to support tangata whaiora. She mentioned how pronouncing Māori names correctly, can bring a smile of affirmation for tangata whaiora in their sometimes not so well space. She understands how valuable cultural healing can be for some Tangata whaiora, she encourages and supports alternative therapy such as mirimiri and Rongoā.
Vanessa acknowledged the privilege of her undergraduate degree journey with the Bachelor of Nursing Māori programme, under the leadership of forensic mental health nurse Shayola Koperu, who along with experienced Nurses Kay Laracy, Trudy Scott and Sandra Waayer, helped to shape, grow and develop Vanessa to become a Neehi (nurse) Māori, enriching her with the ability to effectively nurse and walk in two worlds, that of Māori and non-Māori.
Vanessa continues her nursing journey with her tamariki, providing financial stability for her developing whānau, she knows she is a role model for them. She also remains humble in her role as a neehi Māori.
She is proud that she is now a member of the nursing community, contributing to the development of the Māori health professional workforce. She is comforted in her belief that her mum would be proud.